TAD + PAD
Japan's Technical Audio Devices Laboratories, Inc. (TAD) introduced a number of merchandise to CAF, together with the US debut of the TAD Grand Evolution One (GE1) floor-standing audio system ($65,000/pair) and new TAD C1000 preamplifier ($24,950). Also in Room 651—hosted by Professional Audio Design (PAD)—had been the TAD TAD-D1000MK2 disc participant ($21,000), TAD-DA1000TX DAC ($15,900), and, driving the GE-1s, a pair of TAD TAD-M700 monoblocks. Synergistic Research equipped cables, together with SR30 Speaker Cables $499/pair); different Synergistic merchandise included the aPowercell SX ($8995), Synergistic Research Black Box ($1,995), and a Synergistic Research Galileo SX floor block ($7995). Jocavi Acoustics Mopi and Low Note C panels ($2500) and a Wolf Audio streamer ($9250 – $12,750) accomplished this statuesque gear mountain.
TAD's CEO, Shinji Tarutani, and TAD gross sales and advertising supervisor, Kazuto Okura, equipped the shiny product whereas Professional Audio Design's Dave Malekpour gave the lowdown on TAD's philosophy and the brand new gear.
The large soundfield producing rig showcasing the GE1 floorstanders was like no different at CAF. It created the deepest, most prolonged, room-filling and brain-frying low-end I've heard outdoors of a recording studio. Bass was seismic. Mids had been clear, higher register sounds, cleaner. London Grammar's "Hey Now" (from the album, If You Wait) was silky clean. Low-end tight and clean. The new audiophile anthem, Boz Scaggs' "Thanks to You," was fast, thick, and viscous.
In Room 653, a Wolf Audio streamer ($9250), TAD-DA1000TX DAC ($15,900), TAD C600 Preamplifier and TAD-M700S Stereo Amplifier ($60,500) drove TAD CR1TX Compact Reference audio system with ST-1 stands ($87,500). Synergistic Cabling and Jocavi Acoustics panels made a repeat efficiency.
On Rickie Lee Jones's "Last Chance Texaco,"" Steve Gadd's spanning drum tattoos had been clear and deep, spanning the soundstage left to proper. Stevie Ray Vaughan's "Tin Pan Alley" was equally wealthy. The smaller TAD rig was almost the match of its bigger, dearer sibling, and I needed for little.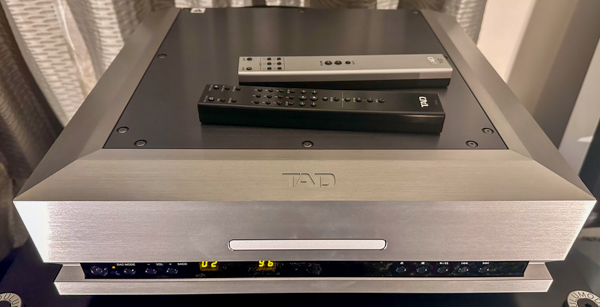 HI-FI News
by way of Stereophile.com https://ift.tt/1GxTWqV
November 20, 2023 at 03:39PM